Chief Finance Officer | Mr. B.K.R. Balasooriya
Chief Finance Officer
Mr. B.K.R. Balasuriya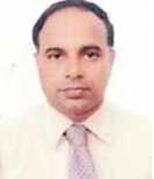 B.K.R. Balasuriya is a Class I officer of Sri Lanka Accountants' Service (SLAccs). He has 30 years of work experience in the public sector. He joined the Sri Lanka Accountants' Service in 1992.
During his tenure, he has severed in various positions in the Divisional Secretariats and the Postal Department as the Chief Accountant. Before he assumed the duties of his current position as the Chief Financial officer of the Ministry of Finance, he worked in the General Treasury in the capacity of Director of Department of Treasury Operations.
He is also serving as a member on the Board of the State Engineering Corporation, Sri Lanka Broadcasting Corporation (SLBC) and Sri Lanka Standards Institute (SLSI). B.K.R. Balasuriya has a B.Com (Special) (Hons.) Degree from the University of Sri Jayawardenepura, Sri Lanka and MA (Economics) Degree from University of Kelaniya, Sri Lanka. He is also a member of Chartered Institute of Public Finance and Accountancy (CIPFA) as a part of his professional career.
Email: balasuriya.bkr@mo.treasury.gov.lk, ran.balasuriya@gmail.com